How to Fix a Loose Tap Head?
A London Handyman is always available to fix a loose tap for you; if you feel like trying some DIY, here's how to do it by yourself.
Fixing a loose tap is a simple task, however, it takes a bit of a time and a bit of attention.
For this task you will need a few tools :
-Tap Back Nut Box Spanner – 27mm & 32mm
– 2 x Adjustable Spanner Wrench
Step 1: The most important step is to locate the mains and turn the water off.
Usually, there's a valve before the flex pipe to isolate the tap from the rest of the circuit.
Step 2: Slowly disconnect the tap flex hose from main. Do it slowly just in case you forgot about step 1.
Step 3: Use the Tap Back Nut Box Spanner – 27mm & 32mm  to tighten back the tap nut making sure you hold the tap in the same time.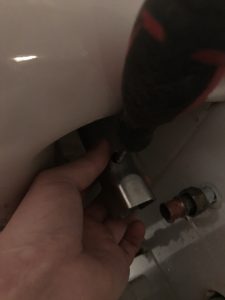 Step: 4 Connect the flex pipe back making sure all the washers are in place.
Step: 5 Slowly turn the mains on making sure there's no leak.
Job Done !!!
If you need a London Handyman to help you with fixing the tap please don't hesitate to contact us.
Please be advised that the information contained in this website is for general information purposes only.  www.112handyman.com assumes no responsibility for errors or omissions in the blog/website content.