How to reseal your bathtub
Whenever you go in the morning in the bathroom to brush your teeth or late in a day when you want to take a shower you have a feeling that the bathroom is old and needs refurbishment. And you are thinking this is going to be expensive. This not always the case.
Like everything in the house, the bathroom needs a bit of maintenance, a bit of attention.
Sometimes, just by redoing the old dirty silicon around the bathtub can make a huge difference, can brighten the bathroom.
In this article, we will be teaching you how to silicon your bathroom like a pro.
If you fail to prepare you are preparing to tail
One of the most common mistake when re-doing the silicon around the bathtub is not preparing the surface. Always clean the old silicon and leave no debris, dirt or anything. This is time-consuming but the result is going to be satisfying. To ease the silicon removing process spray WD-40 over silicon and leave it for about 10-15 minutes.
After 10-15 minutes remove the old silicon using anything you can find around the house, a chisel, a flat screwdriver but be extremely careful not to scratch the the bathtub or wall.
Tools required for resealing the bathtub
Silicon smoothing tool , they come in different sizes, prices and shapes
Start sealing the bathtub
Have loads of tissues close as you will need it to wipe the silicon execs from the smoothing tool. Cut the silicon tub nozzle in an angle as this will help spreading the silicon evenly.
Like so
Start spreading the silicon around the bathtub and use the silicon smoothing tool to give it a nice even shape. When spreading the silicon its always a good idea to spread more than need it as the execs silicon will go deeper in the gap between wall and bathtub when smoothing the silicon in a small angle.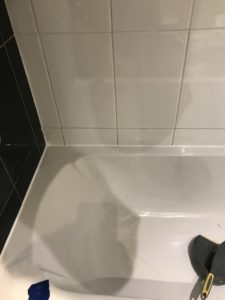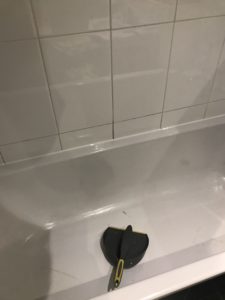 How to Replace a Toilet Cistern?(Opens in a new browser tab)
How to Install SHOWER SCREEN(Opens in a new browser tab)
Bathroom mixer tap installation(Opens in a new browser tab)
If you need a handyman to help you with sealing the bathtub please don't hesitate to contact us.
The information contained in this website is for general information purposes only. We assume no responsibility for errors or omissions in the blog/website content.